What is Rotary?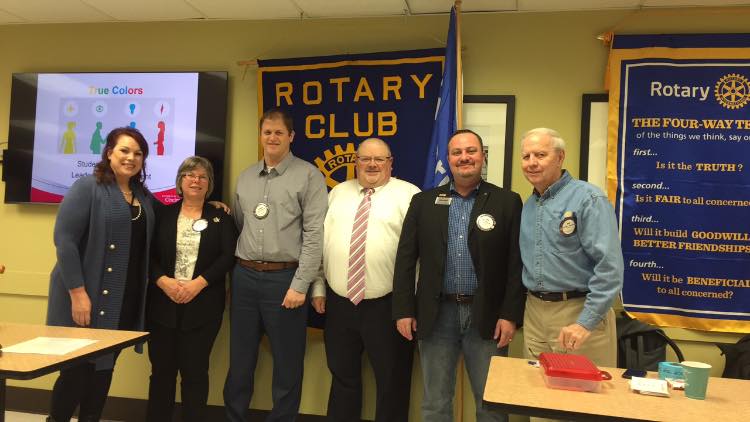 Rotary is the world's oldest and most important service organization with over 1,200,000 members in more than 30,000 clubs spread throughout 160 countries. Rotary provides clean water to those without it, feeds the hungry, battles diseases and helps people all over the world. Rotarians are business and professional leaders who aspire to the highest ethical standards in their vocations and who not only help those in need in their own communities but who also seek to advance the cause of peace, understanding and goodwill worldwide through scholarships, youth and adult exchanges and humanitarian projects. The Jefferson City Breakfast Club composed of a wide variety of professionals. We meet in the Hy-vee meeting room every Wednesday at 7:00 am. Please come Join us for breakfast!
Five Reasons Why YOU Should Join the Jefferson City Breakfast Rotary!
Friendship: In an increasingly complex world, Rotary provides one of the most basic human needs: the need for friendship and fellowship. It is one of two reasons why Rotary began in 1905.
Business Development: The second original reason for Rotary's beginning is business development. Everyone needs to network. Rotary consists of a cross section of every business community. Its members come from all walks of life. Rotarians help each other and collectively help others.
Personal Growth and Development: Membership in Rotary continues one's growth and education in human relations and personal development.
Cultural Awareness: Around the world, practically every religion, country, culture, race, creed, political persuasion, language, color, and ethnic identity is found in Rotary. Rotarians become aware of their cultures and learn to love and work with people everywhere. They become better citizens of their countries in the process.
Fun: Rotary is fun, a lot of fun. Each meeting is fun. The club projects are fun. Social activities are fun. The service is fun.
To Be Eligible For Membership, A Proposed New Member Must Be An Adult Who Is:
A

leading representative of a business , professional activity, retired professional or a active member of the community who likes an exciting Wednesday morning meeting.
Willing to help and participate in projects that enhance the community and the club.
Willing to work on projects that help people in developing countries.
Of good character and good reputation in his or her business, profession or community.
Club Dues
The Jefferson City Breakfast Club dues are established by the Bylaws, which are adopted by a vote of club members. Current annual dues are $400, payable $100 Quarterly.
New Member Forms